AC Installation in Fallbrook, California
Whether it's an installation in a newly built home, a replacement of an existing unit, or a total AC makeover in a home, get a professional to do the job if you want it done well. With the temperatures kicking through the roof these days, people with malfunctioning ACs or without ACs are contacting their local services and asking for AC installation in Fallbrook. Call today and learn how you can receive up to $1,250 Rebate on a Daikin Fit System with Thermostat.
There are so many more air conditioners can do than just cool a home. They filter out dust, pollen, and moisture to make for better sleeping conditions, and helps prevent electronics from breaking down. Air conditioners today are more than just a convenience for families as they are a necessity and even life saving for some.
Some individuals may believe that an air conditioner is out of their price range. But today, high-efficiency systems coupled with smart thermostat devices can cool homes more efficiently than ever. There are many types of air conditioners and you can learn more about them below.
What types of units should you consider for your AC installation in Fallbrook, CA?
There are a lot of cooling choices available today. Some homeowners find the number of options confusing, while others appreciate having a wide range of choices. The best AC unit for your home will depend on your preferences, size of your home, and its current infrastructure. The most popularly used kinds of air conditioning units are given explanations below.
Split System
Most often, the condenser coil will be in an outdoor unit while the evaporator coil is inside the house, often in a utility closet. This system works to blow cool air throughout the home by using ductwork and vents. It can be prohibitively expensive to retrofit an older home that lacks ductwork to accommodate this type of system. Nonetheless, when it comes to energy prices, high-efficiency systems and smart thermostats can make this an affordable option in the long run.
Packaged System
All in one packaged system consists of condenser, evaporator, and compressor and usually, it is placed on the roof or close to home on a concrete slab. This method is great and it works well for a good reason. It may also include heating elements that remove the need for a separate winter furnace.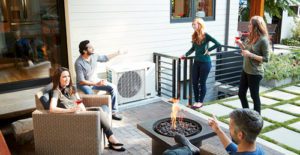 Heat Pump
Depending on the season, heat pumps function by converting outdoor air into either cool or warm air. These units work best in areas with milder climates, as their range of operational temperatures is more limited. Geothermal systems are designed for places where the temperature fluctuates a lot more, so this might be a better option for homes there.
Evaporative Cooler
This AC unit type is named swamp cooler sometimes by other people. It pulls the outside air through moist pads, and the air is cooled through the process of the evaporating moisture. Swamp coolers are a good choice for dry climates, and there is a similar unit, an evaporative cooler, which adds moisture to the indoor environment. Once there is a level of humidity that is attained then the unit's effectiveness wears off.
Ductless Mini-Split System
While such systems are more popularly used in other countries, these can be an alternative that is less costly for older homes or those AC units that are not fitted with ducts. An outdoor condenser unit filters air and provides it to individual blower units in each room.
That allows the owners more power over cooling specific rooms instead of the whole house at once. But if the owner of the home wants the entire home to be cooled during the summer then central air conditioning may turn out to be the more affordable option compared with using ductless mini-split system fans in the different rooms in the home.
Remember to regularly service your new unit.
After your new unit has been built, it is recommended, for optimum performance, to be serviced at least once a year. An AC professional specializing in AC installation in Fallbrook will keep an eye out for general wear and tear, replace parts as needed, and also perform cleaning to ensure it operates for as many years as possible By getting a regular tune-up for your AC you can avoid any sudden breakdowns amid the summer season when you rely on it the most.
The usual life span of an air conditioning unit is about ten years after which it needs to be replaced. It's a good idea to investigate replacement options before your air conditioner dies out. Air conditioners tend to become less efficient and perform poorly as they near the end of their useful life. Once you obtain another device you will get better performance from it.