Welcome to George Plumbing, Heating & AC
OUR MISSION: "To build repeat business by exceeding customer expectations."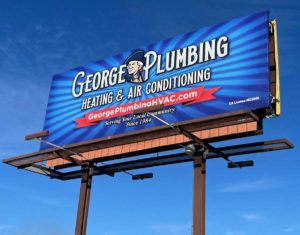 George Plumbing, Heating and Air Conditioning proudly serves the community as a second-generation business since 1984. Starting out as a one-man show, George Slaven arrived in California with his young family from Canada with a dream of starting his own business. Being the friendly man that he was, he quickly made a name for himself in the Rancho Bernardo and Escondido area by simply knocking on doors and asking if anyone needed his assistance while he was in the neighborhood.
Sure enough, his genuine personality and master plumbing skills quickly made him a popular point of contact for folks around town. From there, his little business grew by employing people who believed in simply doing what's right for the customer.
George and his wife Gayle worked side by side for many years, and often their three children could be found as little helpers either riding along with Dad or filing papers with Mom. Two of the three kids went on to work full time in the business as adults, as they enjoyed getting to work with the team they had created out of their family and friends. Young Joel would enjoy learning the plumbing trade by shadowing Dad and later attending Universal Technical Institute to add HVAC to our services offered. Little sister Marie loved working alongside Mom and Aunt, quickly learning the ins and outs of running an office.
Over the years we have employed many great men and women who represent the industry with the highest standards, having learned everything they know from master tradesmen, passing on the skill generation by generation.
Fast forward to today and you may still be greeted by Marie on the phone, and the torch has since been passed to her husband Dave, also working with George Plumbing since 2006 to continue what George set out to do: simply what's right for the customer.
It has been our honor to grow in this business and we look forward to serving our community for many more years to come. THANK YOU for your continued trust in us.
"LET GEORGE DO IT!"
-David and Marie Wade
Owners